DARPA has officially appointed two teams of industrialists to propose a seaplane concept with transport capabilities of over 100 tons. Both teams have already released an image of their concept, which turn out to be very different from each other.
Two industry teams
On Feb. 2, the U.S. Department of Defense's agency in charge of research and development of military projects that include new technologies, the DARPA (Defense Advanced Research Projects Agency), announced that it has selected two industry teams for the Liberty Lifter X-Plane program. The two teams selected are:
General Atomics, in cooperation with Maritime Applied Physics Corporation
Aurora Flight Sciences (a Boeing subsidiary), in cooperation with Gibbs & Cox and ReconCraft
These two teams will be required to develop a prototype of the Liberty Lifter, namely, an aircraft with the following features:
Hydroplane capable of ditching and landing on rough seas (force 4, 1.25 to 2.5 meter high waves).
Capable of operating on water in rough seas (force 5, waves from 2.5 meters to 4 meters high).
Strategic transport capacity in excess of 100 tons.
Capable of flying at an altitude of 10,000 feet above sea level (or 3.048 meters).
Ability to fly at very low altitude over the sea using ground effect (less than 100 feet, or less than 30.48 meters).
Low-cost aircraft.
DARPA is thus launching phase 1 of the Liberty Lifter X-Plane program. This lasts 18 months, including six months of conceptualization work, nine months of maturation and finally three months for manufacturing planning and test and demonstration planning reviews. Phase 2, scheduled for mid-2024, is intended to further develop the work done in Phase 1, with the goal of building a full-scale model of the Liberty Lifter.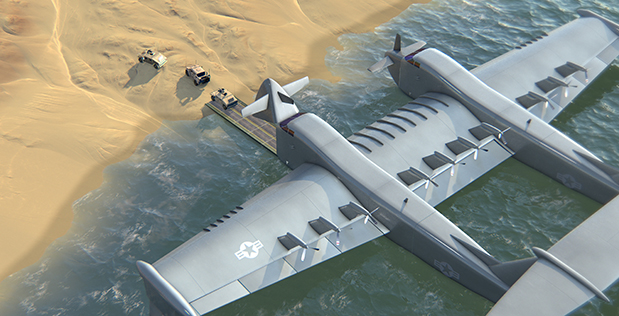 A low-wing twin-beam
General Atomics and Maritime Applied Physics Corporation are going for a low-wing twin-beam seaplane. This is equipped with 12 turboprop engines in a propulsion configuration (the propellers are oriented toward the rear of the aircraft to "push" it forward). The design seems to focus on the overall stability and seaworthiness of the aircraft. The embarkation and disembarkation of the freighter is facilitated by its ability to beach itself: like a landing ship, its doors open and allow the direct disembarkation of vehicles on the beach, as shown in the General Atomics image (below). This model, by the way, generally follows the design envisioned by DARPA (above).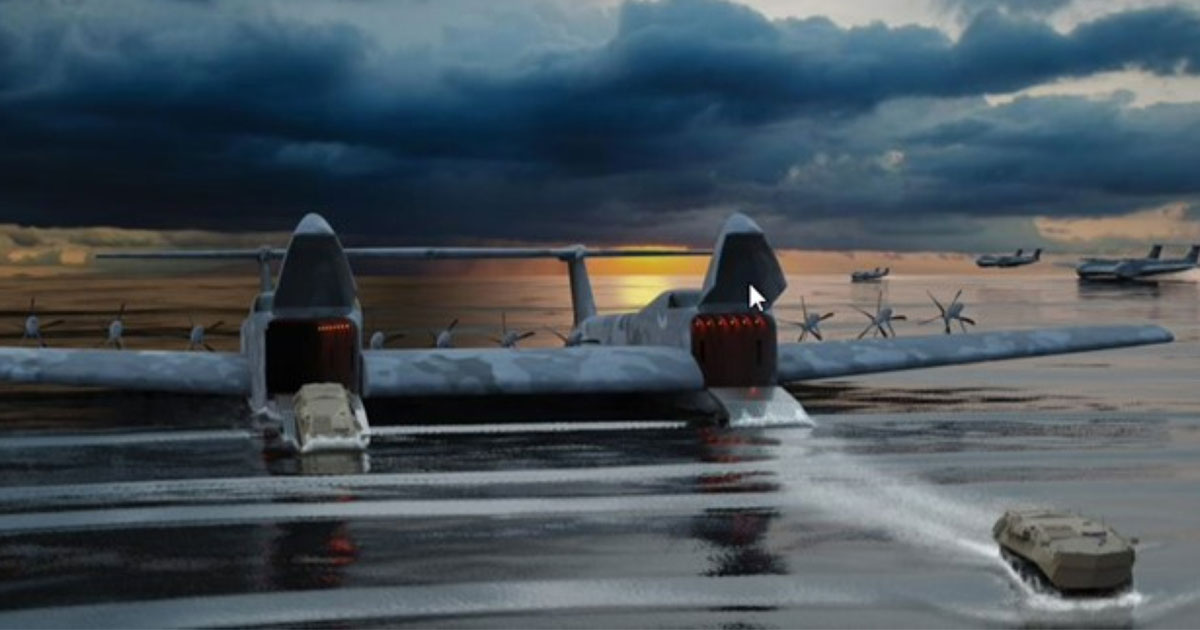 A more conventional seaplane
Aurora Flight Sciences, Gibbs & Cox and ReconCraft are opting for a more conventional seaplane: monohull, high wings (negative dihedral), eight turboprop engines in a traction configuration (forward, they "pull" the aircraft forward). Aurora says that the departure work is based on these characteristics, increased afterwards:
Transport distance greater than 6,500 nautical miles (or more than 12,038 kilometers).
Ground effect flight through a level 5 sea state
Capacity to carry two Marine Corps Amphibious Combat Vehicle (ACV) or six 20-foot containers.
According to their estimates, a first test flight is expected in five years.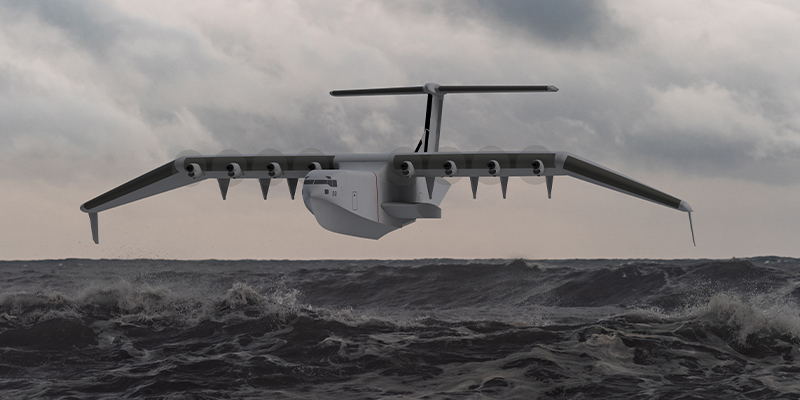 In the Indo-Pacific
This seaplane is clearly oriented toward the western United States, and more specifically, the Indian Ocean and especially, the Pacific Ocean. Indeed, the rise of China in the Indo-Pacific has demonstrated once again that remote and at first glance uninteresting islands can be of great strategic value: located not far from important trade routes, can serve as a forward base in case of conflict, can lock a strait if equipped with an anti-ship battery, etc.
However, the U.S. Armed Forces are limited in transporting troops and heavy equipment to these islands. Most of them do not have runways for strategic or even tactical transport aircraft, limiting the movement of heavy assets by slow transport ships. With this in mind, the U.S. Air Force is planning trials this year of an MC-130J equipped with floats to ditch and lift off (article on the subject), but the Super Hercules' capability is limited, however. In contrast, the Liberty Lifter provides for a strategic transport seaplane with the ability to carry over 100 tons of equipment. For comparison, the C-17 Globemaster III can carry 77.5 tons and the C-5M Super Galaxy, 127.4 tons.