From November 8 to 13, the China International Aviation and Aerospace Exhibition was held at Zhūhǎi-Jīnwān Airport (Guangdong, China). This year's show included a new hypersonic space drone, two sixth-generation aircraft concepts, and the refueling aircraft variant of the Y-20 transport aircraft. It is also an opportunity to see which foreign aircraft have been copied by Chinese manufacturers.
This Chinese aerospace show is more of an opportunity to see - in defense - the future aircraft of the Chinese Air Force as well as the technological advances of the Chinese military aerospace industry. In addition to the static displays of aircraft or models (scale or 1:1), an air show provided a glimpse of the capabilities of many civilian and military aircraft. In particular, four fifth-generation J-20 fighter jets performed for the first time in front of a large audience.
The sixth generation
Several models of futuristic aircraft were on display to the general public ;
A model of a piloted flying wing
A 1/1 model of a more conventional aircraft, on the booth of AVIC (Aviation Industry Corporation of China), also piloted, named " space fighter "
It should be noted that on social networks, many publications seem to see in the model of the "space fighter" an almost exact copy of an aircraft straight out of a video game (the majority seems to go to the "sixth generation fighter" CFA-44 Nosferatu from the video game ACE Combat 6, but with slightly trimmed wings).
Sixth generation obliges, companion drones were also on display. A new version of the FH-97 drone was on display, for example. This variant may be a turning point for the Chinese Air Force as the FH-97 seemed to be a copy of the XQ-58A Valkyrie and the FH-97A seems to be closer to the Boeing Australia MQ-28A Ghost Bat drone but in a twin-engine version.
A space drone...
One drone in particular seems to have attracted attention given the large number of photos posted on social networks it is the MD-22 reusable space drone. It is only a 1/1 scale model but its shape and technical data are nevertheless impressive ;
Length : 10.8 meters
Width : 4.5 meters
Height : 1.6 meters
Maximum speed : Mach 7 (8.643.6 km/h)
Autonomy : 8,000 kilometers
Maximum weight: 1 ton (50% lighter than an MQ-9 Reaper)
The craft appears to be developed as part of research on future hypersonic craft. It is being built by GARA (Guangdong Aerodynamic Research Academy) and CAS Institute of Mechanics.
... and a retex from Ukraine
In contrast, if not the opposite, the Chinese have also developed smaller drones, including a hexacopter armed with light munitions for use against unprotected targets. This system was very important at the beginning of the Russian invasion (February-March 2022) as special forces were able to cause significant damage to the "60-kilometer column" that was heading towards Kiev (article on the subject).
The drone is also a threat that needs to be protected against. CASIC (China Aerospace Science and Industry Corporation) was therefore presenting its HQ-17AE anti-drone system, a variant open to export. It includes an electro-optical radar and a DK-1 low altitude detection radar. It can acquire 20 targets per second, over a distance of 500 meters to 18 kilometers. Offensively, it can launch ZK-K20 surface-to-air missiles, with a range of 1.5 to 20 kilometers (short range) and a capacity to guide up to four missiles in flight. It would have a global anti-aircraft capability but limited (some announce a possibility of destroying a plane or helicopter up to 5 kilometers).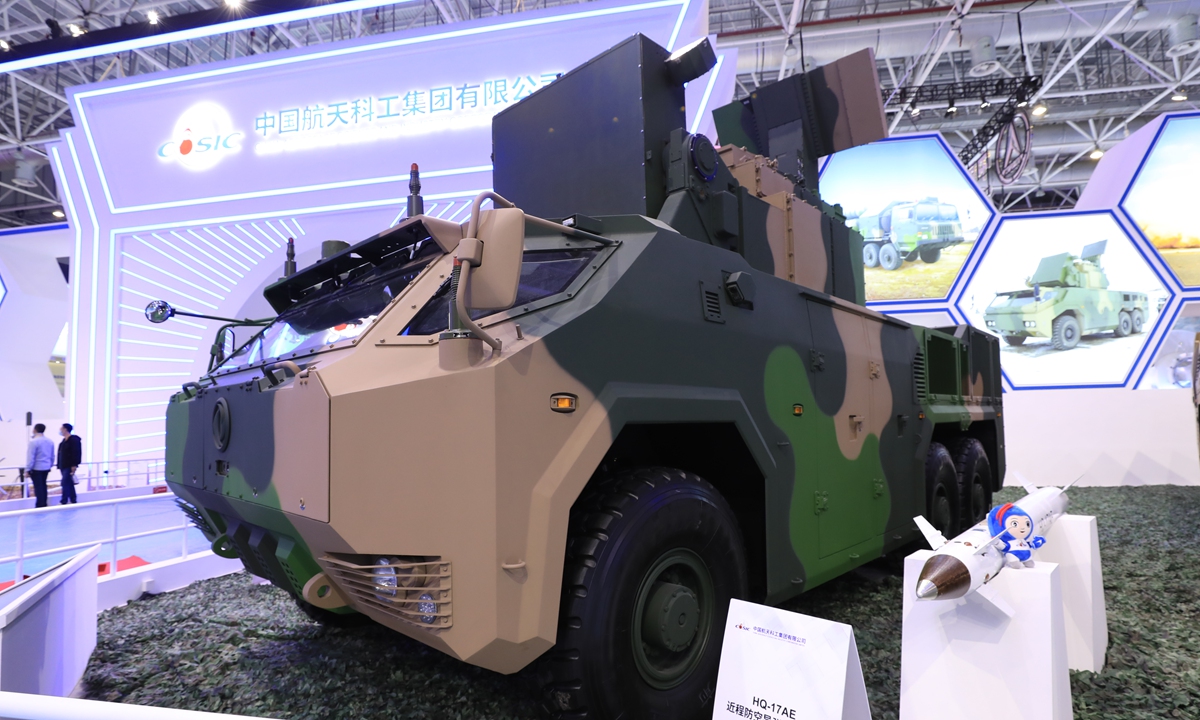 The AWACS with a refueling boom
A KJ-500 forward airborne lookout aircraft was visible on the tarmac. This aircraft is based on the Y-9 tactical transport aircraft, itself a Chinese copy of the Soviet/Russian An-12 transport aircraft. However, the version on display was new as it featured a probe-and-drug refueling boom, extending the aircraft's range. This variant would be named KJ-500A. As with its basic version, it is being developed and put into production by China's Shaanxi Aircraft Corporation.
A freighter turned tanker
The Y-20 strategic airlifter now has a variant that specializes in refueling aircraft in flight. This aircraft, named YY-20 is equipped with a probe-and-drug pod under each wing and a third embedded directly on the rear door (lower part) of the cargo bay. This implies that the tanker cannot be used as a tanker and a transport aircraft.
... but with a lot of Chinese copies
Since China is trying to rise to power, the Chinese industry as a whole is supported by the Chinese state and especially its ability to copy already existing inventions. This is particularly the case in the defense sector:
The FH-97 and FH-97A drones are copies of the American XQ-98A Valkyrie and Australian MQ-28A drones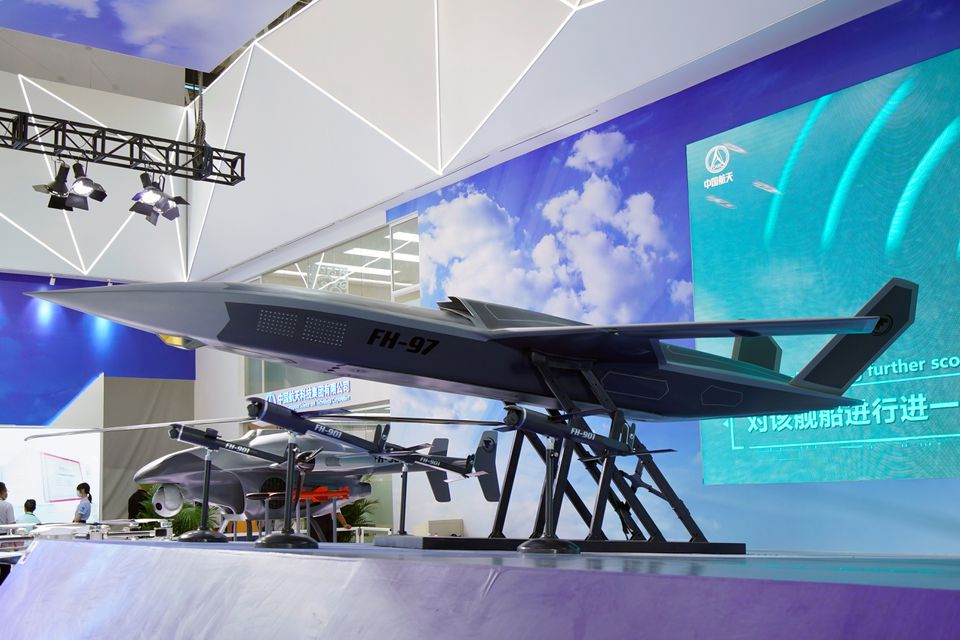 The HQ-17AE anti-aircraft system is a Chinese 4x4 version of the Soviet/Russian 9K330 Tor (SA-15 Gauntlet)
AVIC was displaying two scale models of the Bell V-280 Valor tiltrotor and the Sikorsky and Boeing SB-1 Defiant helicopter
The basic version of the YY-20, the Y-20 strategic airlifter, resembles the U.S. C-17A Globemaster III strategic airlifter
Munitions are also copied, with, for example, the PL-10 short-range missile (already in service) bearing a rather uncanny resemblance to the MICA EM missile.
In terms of retex from the war in Ukraine, the Chinese company CETC was presenting a scale model of a MALE drone... which is a carbon copy of the Bayraktar TB2 drone