As Russian troops continue to mass in Belarus and southern Russia, NATO decides to deploy new elements on its eastern flank.
NATO's presence in the East
NATO already has ground forces pre-positioned in the three Baltic states of Estonia, Lithuania, and Latvia, as well as in Poland. It is primarily a light force of 4,000 troops, reinforced by some armored elements.
The Dutch Landing Platform Dock Rotterdam is in the Baltic Sea as part of NATO's Standing Naval Group 1. The latter conducts numerous interoperability exercises with the various naval forces of member countries and pre-positioned forces present in this area.
In addition, since the annexation of Crimea in 2014 by Russia, NATO has increased the assumption of responsibility for the security of the airspace of the three Baltic States (mission Baltic Air Policing, BAP). Thus, two NATO countries deploy, on a rotation of several months, fighters to carry out air policing missions. Interceptions of Russian aircraft are not uncommon over the airspace of these three countries. Currently, and since December 1, the Air Component (4 F-16s in Estonia) and the Polish Air Force (4 F-16s in Lithuania) are in charge of this mission.
Finally, NATO also keeps on alert a 40,000-strong rapid reaction force comprising naval, land and air units. This force also includes the very high-readiness Joint Task Force, with a strength of 5,000 men. Since Jan. 1, France has taken command of this "small" unit that spearheads the NATO rapid reaction force.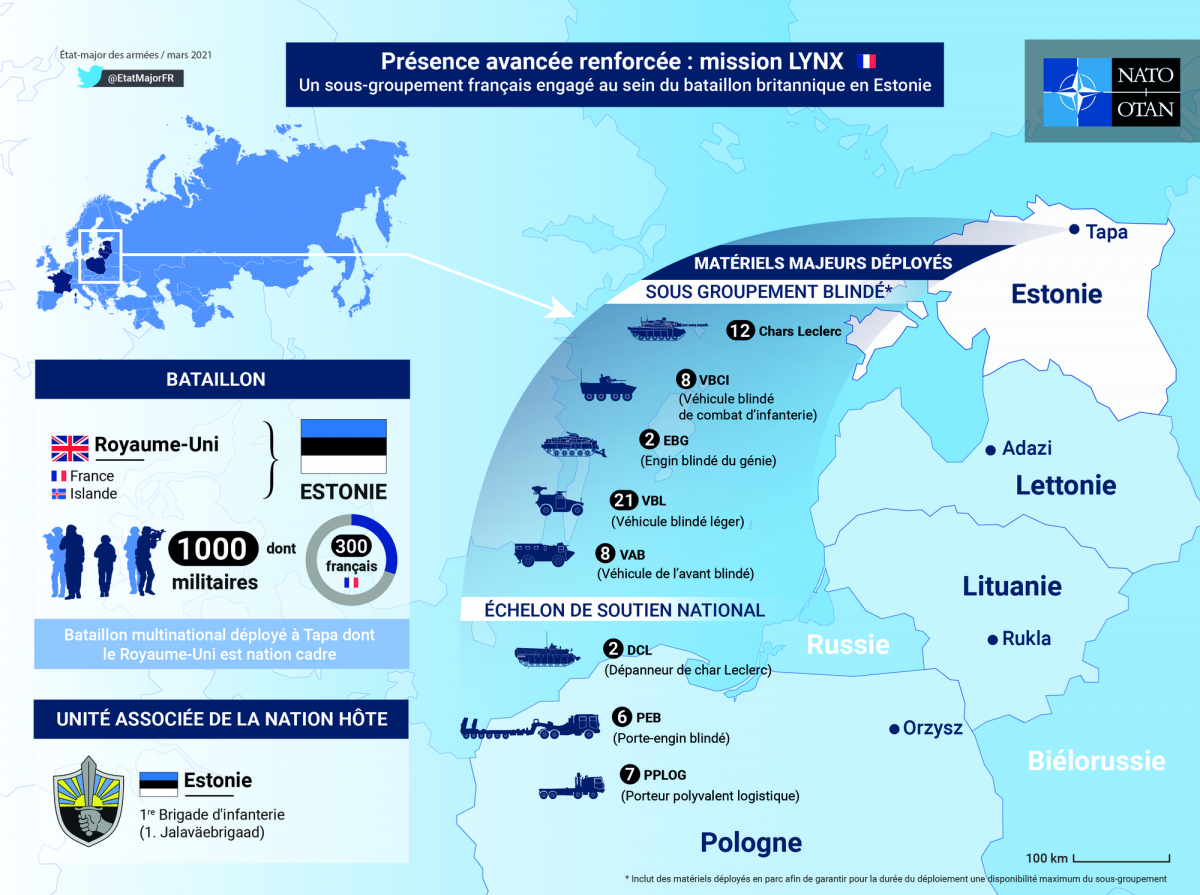 A thorough reinforcement of the capabilities already in place
Following Russia's threats to some NATO member countries, several governments have already announced their willingness to strengthen the capabilities already present in the East.
As a result, the Danish frigate Peter Willemoes (Iver Huitfeldt class) is now accompanying the LPD Rotterdam in the Baltic Sea. Four F-16s are also expected this Friday in Lithuania to reinforce the BAP mission.
Spain is deploying a frigate, the Blas de Lezo (F-100 class) as part of NATO's Standing Naval Group. This group is composed of an Italian frigate and a Turkish frigate. They are expected to go to the Black Sea to patrol NATO's maritime borders in this highly contested area. Madrid is also preparing for the projection of four Eurofighters to Bulgaria next February.
The Netherlands has announced plans to deploy two F-35s to Bulgaria in April to increase the capabilities of the NATO air policing mission in the region. The Hague also announced the provision of a ship and a unit from its Army for the Rapid Reaction Force.
Six U.S. Air Force F-15Es landed in Estonia on Thursday.
Currently, other countries are mulling over deploying units to the east. The United Kingdom is thinking of strengthening its already present detachment with several hundred additional men and their equipment. France has also proposed to send troops to Romania to reinforce the NATO troops already there. In fact, part of the Clémenceau 22 mission will include a series of exercises off the coast of Romania, with at least one FREMM frigate and Rafale Marines (see our detailed article on this mission). In addition, on the U.S. side, Washington has announced the alerting, for a rapid deployment to the East, of 8,500 troops already in Europe.
.
Sweden is also deploying troops
Sweden is not part of NATO and therefore has not reinforced the posture in place. However, this military neutrality is also explained by the maintenance of a well-equipped army.
About January 15, the activity of Russian naval units in the Baltic Sea increased seriously, and the unexpected departure of several landing ships convinced Oslo to reinforce the already present contingent with infantry and equipment. It was also possible to see armored personnel carriers and infantry patrolling some of the island's villages.