The Japanese Self-Defense Air Force had already ordered 13 E-2D Advanced Hawkeye aircraft to dispose of its 13 E-2C Hawkeye aircraft, which were considered too old. However, the DSCA approval could bring Japan's fleet of Advanced Airborne Warning and Command (AEW&C) aircraft to 4 E-767s and a total of 18 E-2Ds.
Too old E-2Cs
The Japan Air Self-Defense Force's (JASDF) fleet of forward airborne lookout and command aircraft (AEW&C) was, until 2019, centered around 13 E-2C Hawkeye and 4 E-787s. The E-787s were collected between 1998 and 1999, but the 13 Hawkeye aircraft are older:
4 E-2Cs ordered in 1979 (~$180 million), received between 1982 and 1983
4 E-2Cs ordered in 1981 (~$270 million), received in 1984
3 E-2Cs ordered in 1989 (~$214 million), received 1992
2 E-2Cs ordered 1990 (~$170 million), received 1993
So, by 2015, the JASDF had decided to purchase 4 E-2D Advanced Hawkeye (AHE). In 2018, a second $3.135 billion contract adds another 9 E-2D AHEs. Thus, these two contracts allow for the total replacement of Hawkeye aircraft with Advanced Hawkeye aircraft without diminishing Japan's AEW&C fleet.
Strengthening the E-2D fleet?
However, on March 7, the Defense Security Cooperation Agency (DSCA) has just authorized a possible contract signing for the purchase of additional E-2Ds at Japan's request. The amount is estimated at $1.381 billion for:
a maximum of 5 E-2D AHE
12 Rolls-Royce T56-A-427A turboprop engines (10 mounted, 2 spares) of 5.100 horsepower
5 APY-9 radars (installed)
6 Multifunction Information Distribution System Joint Tactical Radio System Terminals (5 installed, 1 spare)
5 AN/AYK-27 AN/AYK-27 Integrated Navigation Control and Display Systems (installed)
6 ALQ-217 Electronic Support Measures Systems (5 installed and 1 spare)
12 LN-251 Embedded Global Positioning Systems/Inertial Navigation Systems with Embedded Airborne Selective Availability Anti-Spoofing Module or M-Code Receiver (10 installed, 2 spares)
This potential contract also includes ancillary equipment, spare and repair parts, support equipment, aircraft delivery,...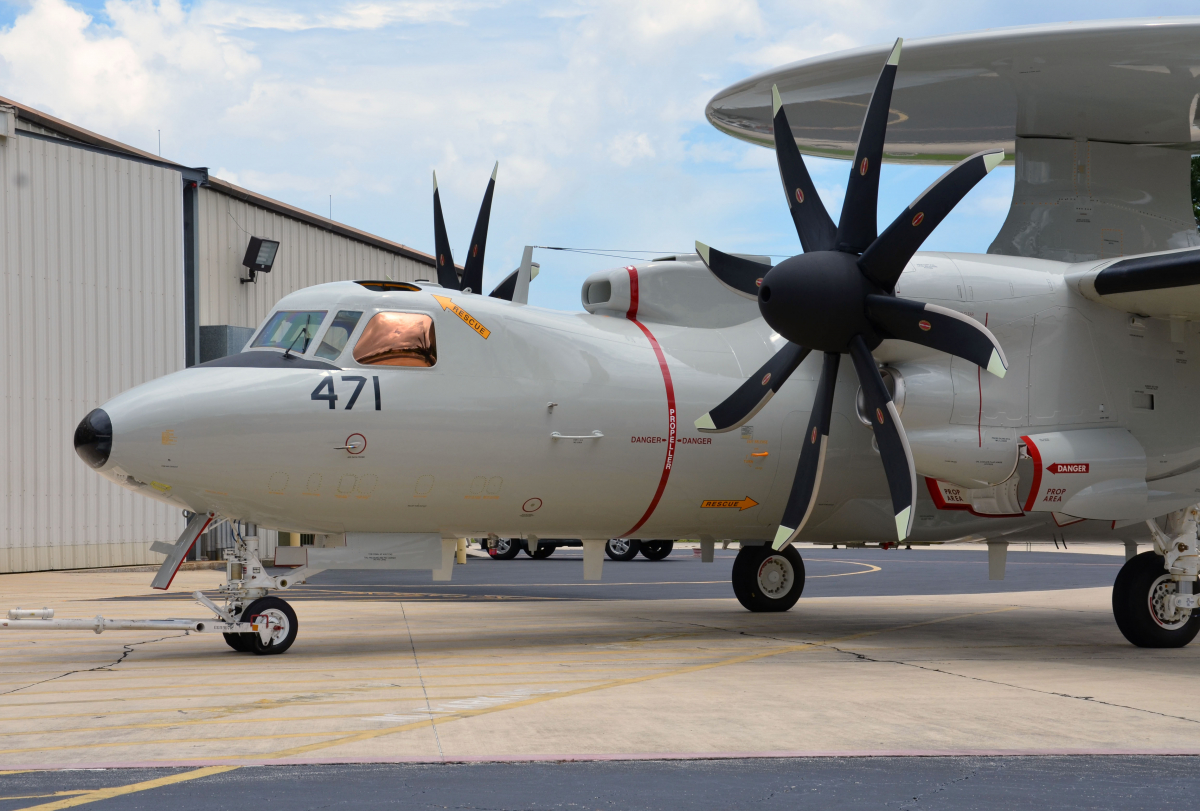 What is the future for Japan's AEW&Cs?
As of 2022, the JASDF had a fleet of AEW&Cs of 20 aircraft:
10 E-2C Hawkeye
As explained earlier, they are to be replaced by the E-2D AHE.
6 E-2D Advanced Hawkeye
This aircraft differs from the Hawkeye with an all-screen cockpit, new AN/APY-9 radar (more accurate and jamming resistant, range greater than 556 kilometers), new Rolls-Royce T56-A-427A engines with lower fuel consumption, refueling boom (extended range),... 13 aircraft have been ordered and can therefore be joined by up to 5 additional E-2D AHEs (i.e. a maximum of 18 E-2Ds).
4 E-767
This aircraft broadly uses the technologies used on the E-3 Sentry but no longer on a Boeing 707 airliner but a Boeing 767-200. Like the Sentry, it is equipped with the AN/APY-2 Doppler radar (range greater than 375.5 kilometers). As explained earlier, these aircraft are not as old as the Hawkeye. In 2018, Boeing was even notified of a contract to modernize the 4 Japanese aircraft for $60.9 million and theoretically completed in December 2022.