French President Emmanuel Macron officially announced to Ukrainian President Volodymyr Zelensky that France will soon deliver Bastion armored personnel carriers and AMX-10 RC armored reconnaissance vehicles to Ukraine. The latter will be particularly useful for reconnaissance missions, but also for support missions, thanks to their mobility and 105 mm gun.
An announcement
On January 4, during a phone call, Ukrainian President Volodymyr Zelensky and French President Emmanuel Macron exchanged views on the ongoing conflict in Ukraine as well as an upcoming military aid package from France. The first to confirm via a tweet the delivery of light tanks and armored personnel carriers Bastion. The second confirmed the shipment of light tanks as well as continuing its support to the Ukrainian Armed Forces in air defense. For the record, the light tanks were identified by other French official sources and by Reuters as AMX-10 RC armored vehicles.
A vehicle that is intended to be highly mobile
The AMX-10 RC is an armed reconnaissance vehicle that arrived in French units in 1981 and is intended to replace the old Panhard EBRs. In concrete terms, it must be able to light up battle tanks by carrying out reconnaissance missions in areas deemed too dangerous for conventional light reconnaissance vehicles. As a result, it is very mobile: wheels are preferred to tracks, as confirmed by the diminutive RC for "Roues-Canon". The latter then have an exception within the Army, already used on the Panhard EBRs: an oleo-pneumatic suspension allowing to lower or increase the height of the body according to the terrain.
No figure is given for the moment regarding the delivery to Ukraine. However, there will be no capability gap: these vehicles are being retired with the arrival of the new Jaguar armored reconnaissance and combat vehicles (EBRC). By 2021, the Army was using a total of 245 AMX-10 RCRs (latest version upgraded with a GPS antenna, turret electrification,...).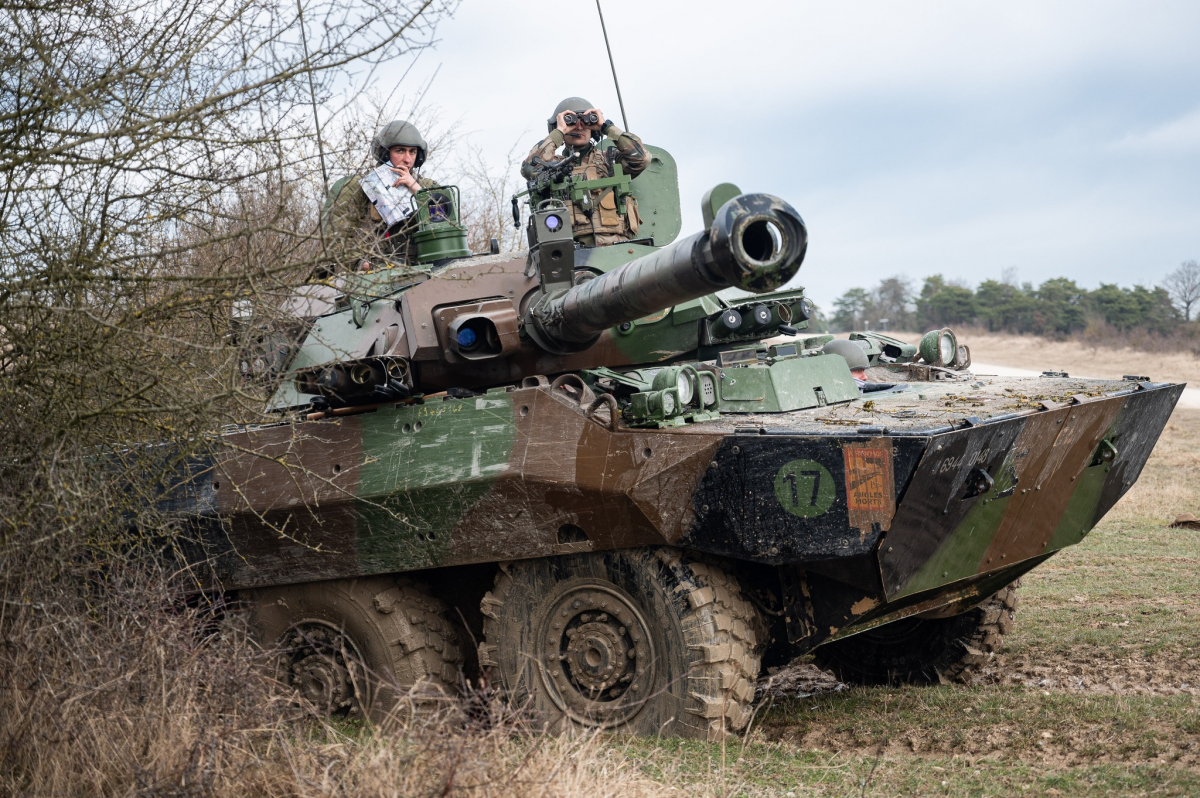 A hell of a punch for reconnaissance...
In addition to being highly mobile, it also has some pretty rare firepower for a reconnaissance vehicle, with a 105mm gun in the turret, a 7.62mm coaxial machine gun, and an external machine gun (on the turret) also of 7.62mm. It is also equipped with a Safran M401 fire control (the first French vehicle to have an automatic fire control).
... with a logistical Achilles heel
The arrival of the AMX-10 RC will, however, represent a logistical challenge for the Ukrainians and will be entirely dependent on France. The 105mm gun (105 F2 48 calibers) semi-automatic can fire different shells. However, they do not correspond to the 105 mm shells that meet NATO standards: the gun only fires a certain type of 105 mm ammunition (105x527R). From then on, the offensive capability of these future Ukrainian vehicles is totally dependent on French military assistance.
A proven armored vehicle
Nonetheless, the AMX-10 RC has participated in all major operations of the Army. In particular, it was used at the forefront of French armored forces during Operation Daguet during Desert Storm in 1991. This operation will see the addition of an over-armor, which will later be generalized to the entire AMX-10 RC fleet. This additional protection will see the removal of its amphibious capability.
It also knows the Balkans, or even more recently the Barkhane operation. In addition to reconnaissance missions, its firepower and armor have been of great help to many French and allied infantrymen.
A debate on the classification of the AMX-10 RC is currently underway: armored or tank? An article is currently being written and will be published soon.
New troop carriers
Another part of the delivery, France plans to send Bastion-type light armored personnel carriers (APC) to Ukraine. This 4x4 armored vehicle is produced by the French company Arquus. It is armored and can carry an external 7.62 or 12.7 mm machine gun (manual or remotely operated). A standard Bastion has a crew of two and can carry up to eight soldiers. The figure of 20 Bastions is put forward but not yet officially confirmed.
It should be noted that the Ukrainian infantry has many portable anti-tank systems. Therefore, the delivery of troop carriers has a double advantage for the Ukrainian Armed Forces: increasing the mobility of troops in general but also better anti-tank capability for teams specialized in anti-tank missions.