A Russian Su-27 fighter jet collided with an American MQ-9 drone while on patrol in international airspace over the Black Sea. The MQ-9 then crashed, resulting in the total loss of the drone.
Collision in mid-air
On the morning of March 14, an unarmed U.S. MQ-9 Reaper reconnaissance drone was on patrol over the Black Sea. The latter was intercepted by two Russian Su-27 fighter jets. On several occasions, the Russian fighters flew dangerously around the drone, even dropping kerosene in front of the Reaper. However, at around 07:03 (Paris time), as one of the two Su-27s was performing a new maneuver, it hit the drone, as explained by General James B. Hecker, USAF commander in Europe (USAFE), in a official statement:
"Our MQ-9 aircraft was conducting routine operations in international airspace when it was intercepted and hit by a Russian aircraft, resulting in a crash and complete loss of the MQ-9."The Russian aircraft reportedly hit the drone at its propeller, rendering it uncontrollable. There is currently no information on the condition of the Su-27.
While this is the first air loss in the area, it is not the first incident between Russian aircraft and aircraft from other air forces. In February 2022, a Russian Su-35 fighter came dangerously close to within about 1.5 meters of a U.S. Navy P-8A Poseidon maritime patrol aircraft. In October of the same year, tensions were running high when a Russian Su-27 had "released a missile in the vicinity of the RAF Rivet Joint beyond visual range" as explained by the British defense minister (more in this article). The RAF had then arranged escort for its upcoming Rivet Joint patrols over the Black Sea.
Russian Ministry of Defense Announcement
The Russian Ministry of Defense issued a statement about the incident, via its Telegram account. The statement said that the drone was detected by the Russian Aerospace Forces and that "the drone was flying with its transponder turned off and violating the boundaries of the area of temporary regime of airspace use for the purpose of conducting a special military operation". Combat aircraft were then dispatched to identify the drone in question. "At around 9:30 a.m. Moscow time (7:30 a.m. Paris time), as a result of abrupt maneuvers, the MQ-9 entered an uncontrolled flight, resulting in a loss of altitude before crashing into the sea."
The statement concludes by saying that there was no firing, no contact between the drone or the Russian aircraft and that they returned to their base safely.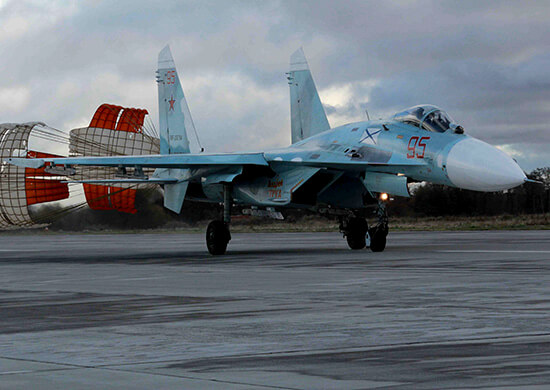 A P-8A on patrol
Sometime after 1 p.m. Paris time, a U.S. Navy P-8A Poseidon maritime patrol aircraft took off from Sigonella Air Base in Italy (Sicily, Italy). It is currently on patrol over the Romanian Black Sea coast. Moreover, E-3 Sentry, P-8 Poseidon or a very rare EP-3E Aries II often fly over this area. It is therefore unlikely that it will be involved in a possible mission related to the Reaper crash.
However, we must expect future tensions in the Black Sea and therefore a resurgence of aerial activity: the United States will more than likely want to recover the wreckage of their drone. However, with the manoeuvres of Russian aircraft and the Russian desire to control the airspace in the area, this recovery operation may prove to be tense between the US Navy and the Russian Black Sea Fleet. This crash may also start a "race" for recovery : this is not the last drone of the US Air Force but its capture may still prove interesting for Russian engineers to improve their drones or to better understand the communication systems used between the drone and the control station in order to better be able to jam them.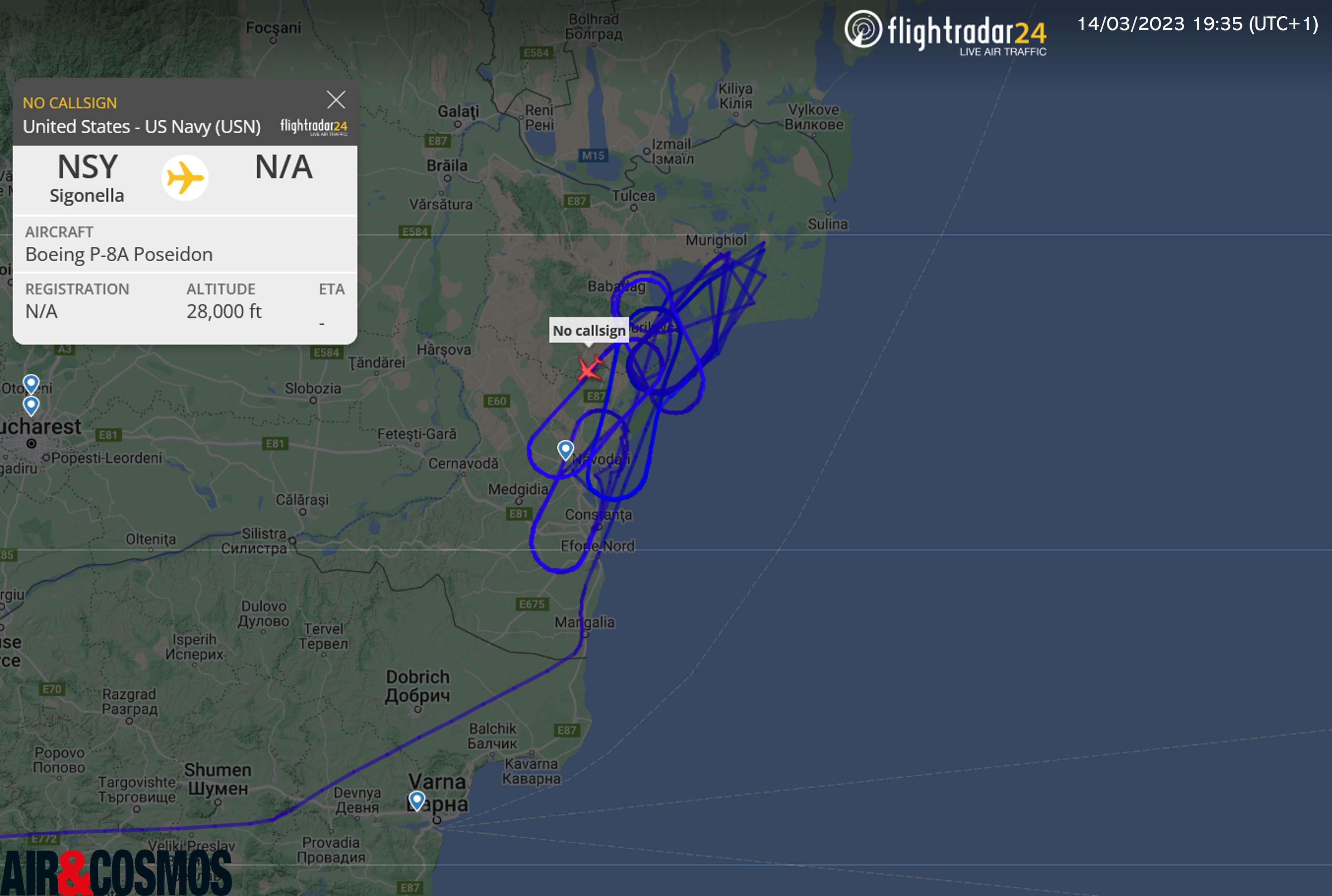 MQ-9A Reaper
The U.S. Air Force's MQ-9 Reaper is a multi-role UAV:
Reconnaissance, intelligence gathering, surveillance,...
Close air support, precision strikes
Guidance of munitions dropped or fired by other systems
The drone includes a suite of sensors including a monochrome camera (day), shortwave infrared camera (night), laser designator and laser illuminator. It is built by General Atomics Aeronautical Systems and entered service in October 2007. It retired the MQ-1 Predator.
Technical Specifications:
Size: 20.1-meter wingspan, 11-meter length and 3.8-meter height.
Transport capacity: 1.746 tons (including 1.361 tons externally for GBU-12 Paveway II, GBU-38 JDAM, GBU-49 Enhanced Paveway II, GBU-54 LJDAM and AGM-114 Hellfire air-to-ground missile).
Range: between 1,852 and 2,592 kilometers (in MQ-9A ER version) with an endurance of 27 to 34 flight hours (ER).
Maximum altitude: 50,000 feet (or 15,240 meters)
Propulsion: Honeywell TPE331-10 turboprop
Article modified on March 14, 2023 at 9:55 p.m.