The budget proposal for the armed forces for the fiscal year 2023 is now public. Orders for aircraft and drones are generally down. The budget for development is mostly focused on the B-21 Raider and the F-35, which still has a great need for development.
Budget proposal up
On March 28, 2022, the Pentagon released its budget proposal for fiscal year 2023. The Pentagon is proposing a budget of $773 billion, a 4.1% increase over 2022. This proposal must be confirmed by Congress, but it already gives a good short-term picture of the U.S. Army's future. The proposals also include FY2021 figures, with 2022 figures being updated.
Airplane and drone orders overall down...
So, the U.S. Air Force is projecting an overall decrease in orders for several reasons:
The F-35 is far too expensive to maintain and still includes many errors
The F/A-18 E/F has not been ordered since 2021. However, in 2022, Congress added 12 more aircraft. So the US Navy is handing in a new proposal without any Super Hornets.
An overall desire to increase funding for aircraft in development: B-21 Raider, NGAD, etc.
Overall, the number of orders drops from 206 drones or aircraft in 2021 to 122 in 2023. Only five aircraft see their orders increase or stagnate:
F-15 EX, the big winner in the 2023 budget, which sees its orders double (12 in 2021, 24 in 2023)
MQ-25, goes from 0 (2021) to 4 drones ordered (2023)
MQ-4C, which goes from 1 drone in 2021 to 3 drones ordered for 2023
E-2D and KC-130J, which see no change from 2021 (5 E-2D and 5 KC-130J ordered).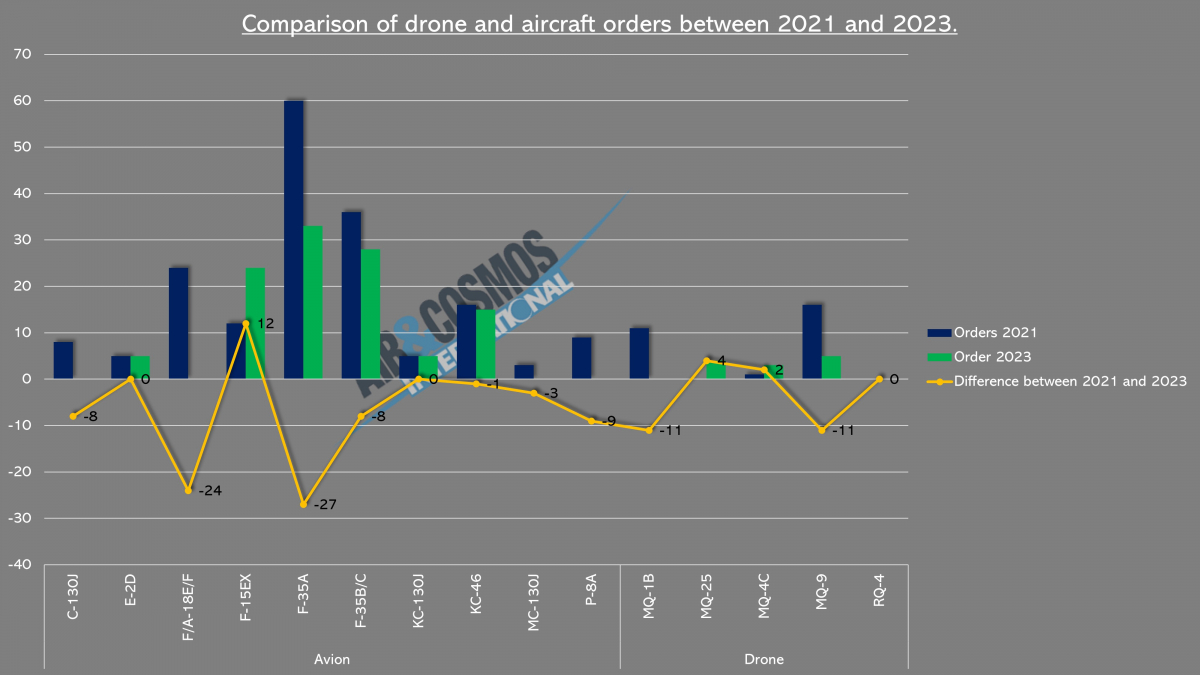 ... a reduction in some in-service aircraft...
The budget also addresses the retirement of some aircraft. This is the case for 15 E-3 Sentry AWACS based at Tinker Air Force Base, Oklahoma, USA. This is not a complete retirement of the Sentry fleet, but rather a preparation for the arrival of its replacement. The USAF will still have 12 Sentries at Tinker and four positioned between Elmendorf (Alaska, USA) and Kadena (Kyushu, Japan). The Air Force has announced that the departure of these aircraft will surely open a hole in the sky surveillance capabilities, but that this problem will not be insurmountable: the Secretary of the Air Force has announced that a replacement will soon be announced. Numerous leads suggest that it will be the E-7 Wedgetail (see article focused on this topic).
The USAF is also expected to eventually part ways with the A-10s within five to six years despite their recent refurbishments and the failures of the F-35 in CAS. The E-8s are also slated to leave active duty as well as the older KC-135 tankers, which will be replaced by the KC-46s.
More surprisingly, the Air Force would like to part with 33 F-22s, bringing the total fleet down to 153 Raptors in service. These are primarily Block 20-standard aircraft, dedicated to training only. Frontline aircraft will replace them for F-22 pilot training, but they will be able to support other F-22s as needed while retaining combat capability.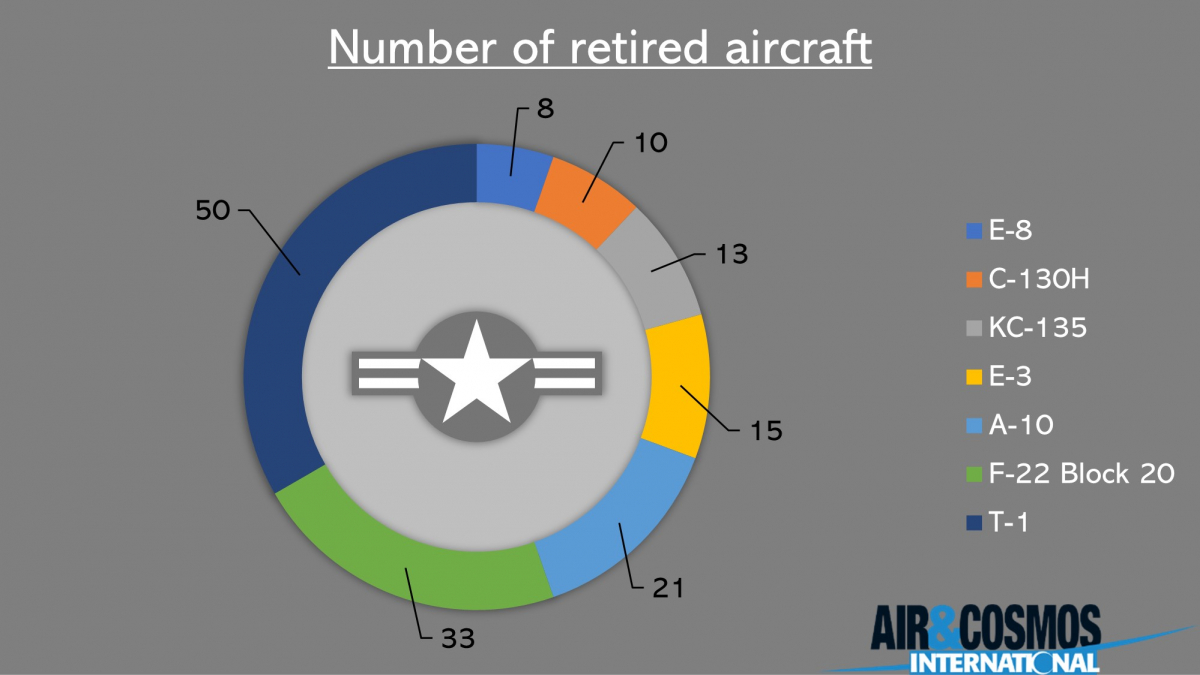 ... and an increase in RDT&E
The decrease in orders allows the various branches to release funds for research, development, test and evaluation of aircraft in service or under development (RDT&E):
B-21 Raider ($2.7 billion in 2021 and $3.2 billion in 2023).
F-35A which passes the billion mark (0.79 billion in 2021 and 1.08 billion in 2023)
F-35B and C which also pass the billion mark (0.75 billion in 2021 and 1.01 billion in 2023), for a total of 2.09 billion for all F-35. This is equivalent to two-thirds of the funds allocated to the B-21, demonstrating once again that the F-35 is still in full development.
Inversely, some programs are seeing their funds decrease as a result of delays. For example, VC-25B is seeing a 46% decrease in funding (article explaining the delays in the future Air Force One replacement).