Following the announcement of the delivery of its MiG-29s to Ukraine, Slovakia has been offered by the United States the purchase of 12 new AH-1Z Viper helicopter gunships and 500 AGM-114 Hellfire II anti-tank missiles. This $1 billion proposal will cost Slovakia only $340 million
340 million instead of 1 billion
On March 17, Slovakia announced the upcoming transfer to Ukraine of 13 MiG-29s as well as an as-yet-unknown number of Kub-M2 short-range anti-aircraft systems (article on the subject). Following this statement, the United States then offered on March 22 to Slovakia to purchase 12 AH-1Z Viper combat helicopters at a two-thirds discount. The offer also includes training, spare parts and 500 AGM-114 Hellfire II air-to-ground missiles (mainly anti-tank, laser-guided, 11-kilometer range). The U.S. proposal is very advantageous because Slovakia can purchase a substantial military equipment package, valued at $1 billion, but for only $340 million, with the difference accounted for by the U.S. Foreign Military Financing program. Slovakia does not intend to miss this opportunity, as Slovak Defense Minister Jaroslav Nad made clear (via Reuters):"This offer is hugely advantageous and will significantly increase Slovakia's defence potential."
Slovakian power rising
This American proposal is also interesting from a military point of view. Currently, the close air support capability of the Slovak Armed Forces is almost non-existent; it relies only on Mi-17 Hip H transport helicopters and UH-60M Black Hawk (which are, by the way, gradually replacing the Mi-17) equipped with light weaponry. The arrival of the first F-16 fighter aircraft in 2024 should allow the return of a heavy air combat capability in Slovakia, but no orders for combat helicopters were planned. The arrival of these 12 Vipers is therefore a major step up for the Slovak Armed Forces. It should be noted that the Czech Republic, Slovakia's neighbor, is currently seeing its Armed Forces acquire Viper aircraft, with a total of 10 helicopters expected.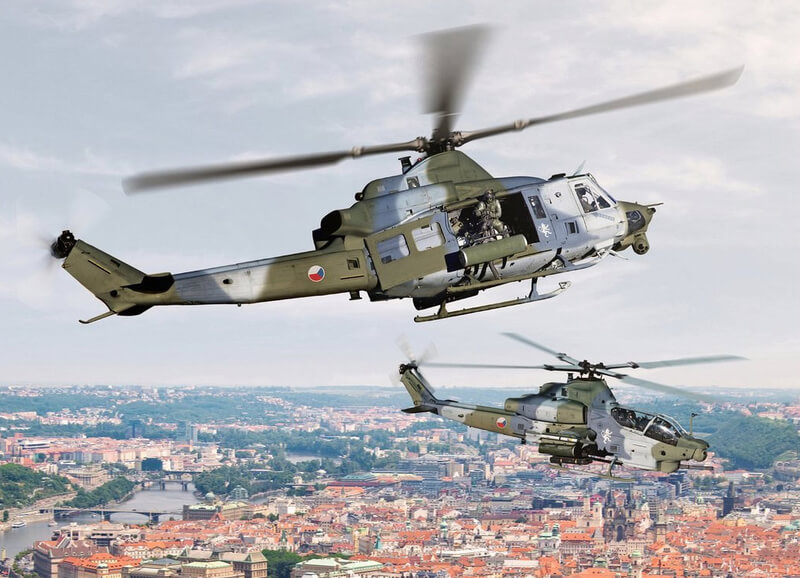 AH-1Z Viper
This is the most advanced upgrade to the AH-1 Cobra combat helicopter. It is easily distinguished from previous versions by its four-blade rotor. It is primarily used by the U.S. Marine Corps but has also been exported to Bahrain and the Czech Republic, as described above. It can be used for ground strike, close air support, armed reconnaissance and convoy escort missions. The AH-1Z is two-seater (pilot and co-pilot/weapons manager), includes a full glass cockpit, a third generation FLIR (Lockheed Martin Target Sight System), a rapid-fire nose gun (M197, 20 mm) as well as 6 winged carry points;
up to 16 Hellfire anti-tank missiles (4x 4 missiles)
up to 76 Hydra rockets (4 pods of 19 rockets)
possibility of carrying APKWS II guided rockets
up to 2 AIM-9 Sidewinder short-range air-to-air missiles (external carry point on each wing)
Generally speaking, the armament is very often mixed, with the carrying of 8 anti-tank missiles, 2 rocket pods (38) and two Sidewinder if needed. It should be noted that depending on the endurance and range required, the Viper can carry 9 Hydra rocket pods to lighten the aircraft.
Technical specifications
Size: 17.7 meters long (13.7 meters long for the fuselage) and 4.36 meters high
Maximum mass: 8.4 tons (6.1 tons for the Eurocopter Tiger HAP, 10.4 tons for the AH-64E Apache)
Propulsion: General Electric's T700-GE-401C of 1.800 horsepower
Speed: 257.4 km/h (cruise), 370 km/h (max)
Autonomy: 310 nautical miles (i.e. 574 kilometers) in maximum range, 131 nautical miles (i.e. 242.6 kilometers) in combat missions (with 8 Hellfire, 2x 7 guided or unguided rockets, 650 20 mm shells, 120 countermeasures and 20 minutes fuel reserve)
Endurance : 3.3 hours of flight time